TechBlogger
Posts: 13
Joined: Jul 2015
Reputation: 0

07-20-2015 -
Junior Member
The best way to make money online is by selling products online, either new or used products as long as the price is right people will always buy. That said,
QMoses
Online Marketplace makes it easy and seamless for anyone that wants to make money through ecommerce without incurring unnecessary overhead. In order to start making money online you can go straight to
QMoses
website and start selling products of your choice. Also buyers can buy most designers products from
QMoses
for a fraction of the original price.
Getting Started With Selling Online
Go to
QMoses
website
http://www.qmoses.com
and register by clicking on the "
Register
" button (As seen in the below image, #5). If you are a returning user, please click on the "Login" button (as seen in the below image, #4) to login.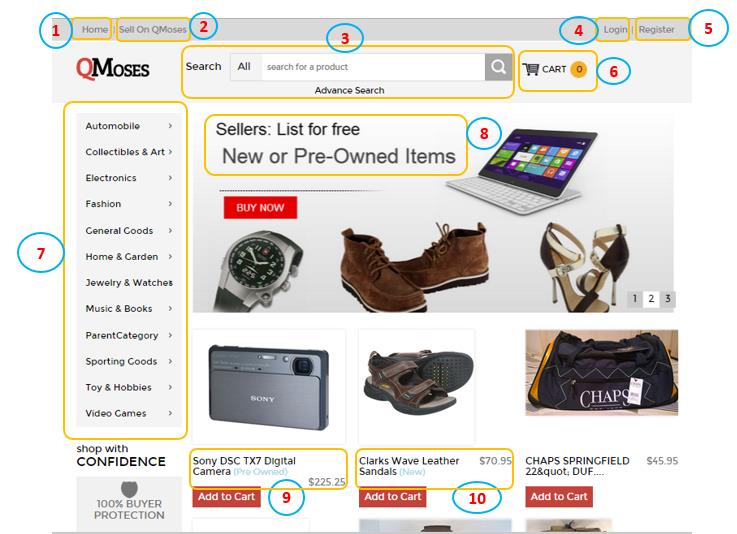 Usage Instructions
Go to QMoses website
Click on the "

Register

" button located at the top right corner
Complete the account registration form and click on the "

Register

" button to submit your account registration
After creating your

QMoses

account, a PayLocally account will automatically be created for you to keep track of sales / purchases transactions
Confirm your account registration by using the email confirmation link that was sent to you
Thereafter, sellers will be able to list items by clicking on the "Sell On QMoses" button located at the top left corner
And this will take you to the "Product" page, then click on the "

Add Product

" button located at the top right corner in the product page and start listing your products
And when products are sold, notification email will automatically be sent to the seller with buyer's shipping address. Also buyers will receive purchase confirmation email
Sales proceeds are automatically deposited into sellers'

PayLocally

account